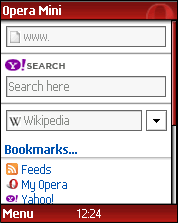 Opera Mini is a fast and tiny Web browser, that allows you to access the full Internet on your phone. Take all your favorite Web sites and download images, MP3`s on the go with Opera Mini!
New features in version 3.1 include:
RSS feeds: Keep track of news and information from your favorite websites, manage and edit your RSS feeds from Opera Mini.
Content folding: Opera Mini identifies menu items in a web site and folds them, giving quicker access to the relevant content and reducing clutter.
Picture upload: Upload pictures taken from the phone camera to your web album or blog in seconds!.
Secure connections: Do your online banking, shopping, email, etc. securely with Opera Mini.
Opera Mini uses a remote server to pre-process Web pages before sending them to your phone. Web content is optimized for your device, ensuring fast browsing and a great user experience.
Opera Mini™ offers the same speed and usability as the renowned Opera mobile browser, and uses Opera's Small Screen Rendering™ technology to provide access to the Web. It has all the features expected of a browser, and more, such as content download, skinning, bookmarks, browsing history. In addition, Opera Mini recognizes your phone and optimizes Web pages accordingly to provide faster browsing.
This download file contains both MIDP1 basic and MIDP2 advanced versions. If you are unsure which one to install please visit the following link with your phone`s WAP browser, and you will receive the right version
1. opera-mini-3.1.7203-advanced-int.jar
Size

:

96.77 Kb


Compatible with:


Alcatel: One Touch 557, One Touch 557a, One Touch 735, One Touch 756, One Touch C552, One Touch C552a, One Touch S853
Asus: P525
Audiovox: SMT 5600
BenQ: EF51, P50
BenQ-Siemens: CL71, E61, S81, S88
BlackBerry: 6220, 6230, 6280, 6720, 7100, 7100i, 7130, 7130e, 7210, 7230, 7250, 7280, 7290, 7510, 7520, 7730, 8100, 8130, 8300, 8310, 8320, 8700, 8703e, 8707, 8800, 8820, 8830
Cingular: Cingular 2125, Cingular BlackJack
Dopod: Dopod 515, Dopod 557w, Dopod 565, Dopod 575, Dopod 585, Dopod 586w, Dopod 595, Dopod C720W
HP: iPAQ 510 Mobile Messenger
HTC: HTC MTeoR, HTC S310, HTC S620, HTC S650, HTC S710
Huawei: U526, U626
i-mate: i-mate Smartphone2, i-mate SP Jas, i-mate SP3, i-mate SP3i, i-mate SP5, i-mate SP5m, i-mate SPL
Lenovo: V800
LG: B2000, B2050, B2070, B2100, B2150, C1100, C1150, C2000, C2500, C2600, C3100, C3300, C3400, CG225, CU400, CU500, F2400, G1600, G4015, KE820, KE970, KG110, KG200, KG220, KG240, KG245, KG300, KG320, KG800, LG550, LX550, LX570, M4410, MG100a, MG105, MG220, P7200, S5200, T5100, U8210, U8290, U8330, U8500
LG Electronics: LG-B2060
Mitac: Mio 8390, Mio 8860, Mio 8870
Motorola: A1200, A760, A768, A780, A835, C168, C257, C261, C290, C350, C350M, C380, C385, C390, C450, C550, C650, C975, E1000, E1070, E380, E398, E398B, E398i, E550, E680, E680i, E770, E770-Vodafone, E790, E815, i830, i930, K1, KZRK K1, L2, L6, L6i, L7-Vodafone, Motorola Q, Motorola Q Plus, MPX220, PEBL U6, Razr V3, RAZR V3m, Razr V3x, RAZR V3xx, RAZR V3xxv, RAZR V6, RAZR2 V9m, ROKR E1, ROKR E2, ROKR E6, SLVR L7, SLVR L7e, SLVR L7i, SLVR L9, T720, V1050, V1075, V171, V177, V180, V186, V188, V190, V195, V197, V220, V235, V300, V360, V360-Vodafone, V365, V3i, V3m, V3r, V3t, V3v, V3x-Vodafone, V400, V500, V505, V525, V525M, V535, V547, V550, V551, V555, V557, V600, V600i, V620, V635, V80, V975, V980, V980M, W220, W375, Z3
NEC: N600
Nokia: 2355, 2610, 2626, 2650, 2760, 2855i, 2865, 2865i, 3100, 3105, 3110c, 3120, 3125, 3152, 3155, 3200, 3220, 3230, 3250, 3300, 3410, 3510i, 3530, 3586i, 3587, 3595, 3600, 3620, 3650, 3660, 5070, 5100, 5140, 5140i, 5200, 5300, 5500d, 6010, 6015, 6020, 6021, 6030, 6060, 6060v, 6061, 6070, 6080, 6085, 6100, 6101, 6102, 6102i, 6103, 6108, 6111, 6125, 6126, 6131, 6133, 6151, 6155, 6165i, 6170, 6200, 6220, 6225, 6230, 6230i, 6233, 6234, 6235, 6235i, 6255, 6255i, 6260, 6265, 6265i, 6270, 6275i, 6280, 6288, 6300, 6310i, 6585, 6600, 6610, 6610i, 6620, 6630, 6650, 6651, 6670, 6680, 6681, 6682, 6708, 6800, 6810, 6820, 6822, 7200, 7210, 7250, 7250i, 7260, 7270, 7360, 7370, 7373, 7390, 7500, 7600, 7610, 7650, 7710, 8800, 8800 Sirocco, 9210, 9290, 9300, 9500, E50, E60, E61, E61i, E62, E65, E70, N-Gage, N-Gage QD, N70, N70-1, N71, N72, N73-1, N80-1, N90, N91, N92, N93, N93i, N95
O2: Ice
Orange: SPV, SPV C100, SPV C500, SPV C550, SPV C600, SPV C700, SPV e100, SPV E200
Panasonic: A210, VS2, VS3, VS6, X200P, X400, X400P
Pantech: PG-1410
Philips: 768
Qtek: 8100, 8500
QTEK: QTEK 7070, QTEK 8010, QTEK 8020, QTEK 8080, QTEK 8100, QTEK 8300, QTEK 8310, QTEK 8600
RoverPC: M1
Sagem: MY 400V, MY 400X, MY 401X, MY 401Z, MY 501C, MY 501X, MY 600v, MY 600x, MY 700X, MY C4-2, MY C5-2, MY C5-2 Vodafone, MY V-55, MY V-56, MY V-65, MY V-75, MY W-7, MY X-4, MY X-5-2T, MY X-6, MY X-7, MY X-8, MY X5-2, MY X5-2M, MY X6-2, MY Z-5, myX5-2v, Sagem myS-7
Samsung: i300, i320, i320N, SCH A870, SGH A701, SGH A707, SGH C100, SGH C100G, SGH C130, SGH C140, SGH C170, SGH C200, SGH C207, SGH C207L, SGH C210, SGH C230, SGH C260, SGH C300, SGH C406, SGH C417, SGH D407, SGH D410, SGH D500, SGH D500C, SGH D500E, SGH D510, SGH D520, SGH D600, SGH D600E, SGH D800, SGH D807, SGH D820, SGH D830, SGH D836, SGH D840, SGH D900, SGH D900i, SGH E200, SGH E250, SGH E300, SGH E310, SGH E310C, SGH E315, SGH E316, SGH E330, SGH E330N, SGH E340, SGH E340E, SGH E350, SGH E350E, SGH E360, SGH E370, SGH E376, SGH E420, SGH E490, SGH E500, SGH E530, SGH E568, SGH E570, SGH E600, SGH E620, SGH E630, SGH E630C, SGH E690, SGH E700, SGH E710, SGH E715, SGH E720, SGH E728, SGH E730, SGH E736, SGH E760, SGH E780, SGH E800, SGH E808, SGH E810, SGH E830, SGH E840, SGH E870, SGH E878, SGH E890, SGH E898, SGH E900, SGH i300, SGH I607, SGH P200, SGH P300, SGH P310, SGH P400, SGH P510, SGH P777, SGH P850, SGH P900, SGH P906, SGH P910, SGH P920, SGH S300, SGH S300M, SGH T209, SGH T219, SGH T309, SGH T319, SGH T329, SGH T509, SGH T509S, SGH T519, SGH T609, SGH T619, SGH T629, SGH T809, SGH U600, SGH U700, SGH X100, SGH X100A, SGH X105, SGH X120, SGH X160, SGH X200, SGH X210, SGH X300, SGH X430, SGH X450, SGH X460, SGH X480, SGH X486, SGH X490, SGH X495, SGH X500, SGH X506, SGH X507, SGH X510, SGH X520, SGH X530, SGH X600, SGH X620, SGH X620C, SGH X630, SGH X636, SGH X640, SGH X640C, SGH X648, SGH X650, SGH X660, SGH X670, SGH X680, SGH X686, SGH X700, SGH X820, SGH Z107, SGH Z140, SGH Z230, SGH Z240, SGH Z300, SGH Z370, SGH Z400, SGH Z400V, SGH Z500, SGH Z510, SGH Z530, SGH Z540, SGH Z560, SGH Z720, SGH ZV10, SGH ZV40, SGH ZV50, SGH-i607, SPH A580, SPH A640, SPH A660, SPH A680, SPH A740, SPH A900, SPH A900P, SPH A920, SPH A940, SPH A960, SPH M500, SPH M510, SPH M610, SPH M620, Z130, Z150
Sanyo: S750
Sendo: X
Sharp: 770SH, GX-L15, GX10, GX10i, GX15, GX17, GX20, GX22, GX25, GX29, GX30, GXT15, TM100, TM150
Siemens: A31, A60, A65, A75, AL21, AX72, AX75, AX76, C55, C60, C62, C65, C65-Vodafone, C66, C72, C75, CF62, CF76, CX65, CX70, CX75, EF81, M50, M55, M56, M65, M75, MC60, ME75, MT50, S55, S57, S65, S75, SK65, SL42, SL45, SL55, SL65, SL75, ST60, SX1
Sony-Ericsson: D750, D750i, F500i, J200i, J210i, J220i, J230i, J300a, J300i, K300, K300a, K300i, K310, K310a, K310i, K320i, K500i, K508, K508c, K508i, K510a, K510i, K550i, K600, K600i, K608i, K610, K610i, K618i, K700, K700c, K700i, K750, K750i, K790a, K790i, K800i, K800iv, K810i, K850i, M600i, P1i, P800, P900, P910, P910a, P910i, P990i, S500i, S700, S700i, S710a, T226, T230, T290a, T290i, T610, T616, T630, T637, T68, V600, V600i, V630i, W200a, W200i, W300, W300i, W550c, W550i, W580i, W600c, W600i, W610i, W660i, W700i, W710i, W800i, W810i, W810iv, W830i, W850i, W850iv, W880i, W900i, W950i, Z1010, Z300i, Z310i, Z310iv, Z500, Z500a, Z520a, Z520i, Z530i, Z550a, Z550i, Z558i, Z600, Z610i, Z710i, Z800
T-Mobile: MDA Dash, MDA Mail, SDA, SDA (US name), SDA II, SDA Music
Tatung: M1
Vodafone: v1210, v1240, VDA II, VDA IV

Download to PC:

JAR file (opera-mini-3.1.7203-advanced-int.jar)

2. opera-mini-3.1.7203-basic-int.jar
Size: 56.36 Kb


Compatible with:


Alcatel: One Touch 557, One Touch 557a, One Touch 735, One Touch 756, One Touch C552, One Touch C552a, One Touch S853
Asus: P525
Audiovox: SMT 5600
BenQ: EF51, P50
BenQ-Siemens: CL71, E61, S81, S88
BlackBerry: 6220, 6230, 6280, 6720, 7100, 7100i, 7130, 7130e, 7210, 7230, 7250, 7280, 7290, 7510, 7520, 7730, 8100, 8130, 8300, 8310, 8320, 8700, 8703e, 8707, 8800, 8820, 8830
Cingular: Cingular 2125, Cingular BlackJack
Dopod: Dopod 515, Dopod 557w, Dopod 565, Dopod 575, Dopod 585, Dopod 586w, Dopod 595, Dopod C720W
HP: iPAQ 510 Mobile Messenger
HTC: HTC MTeoR, HTC S310, HTC S620, HTC S650, HTC S710
Huawei: U526, U626
i-mate: i-mate Smartphone2, i-mate SP Jas, i-mate SP3, i-mate SP3i, i-mate SP5, i-mate SP5m, i-mate SPL
Lenovo: V800
LG: B2000, B2050, B2070, B2100, B2150, C1100, C1150, C2000, C2500, C2600, C3100, C3300, C3400, CG225, CU400, CU500, F2400, G1600, G4015, KE820, KE970, KG110, KG200, KG220, KG240, KG245, KG300, KG320, KG800, LG550, LX550, LX570, M4410, MG100a, MG105, MG220, P7200, S5200, T5100, U8210, U8290, U8330, U8500
LG Electronics: LG-B2060
Mitac: Mio 8390, Mio 8860, Mio 8870
Motorola: A1200, A760, A768, A780, A835, C168, C257, C261, C290, C350, C350M, C380, C385, C390, C450, C550, C650, C975, E1000, E1070, E380, E398, E398B, E398i, E550, E680, E680i, E770, E770-Vodafone, E790, E815, i830, i930, K1, KZRK K1, L2, L6, L6i, L7-Vodafone, Motorola Q, Motorola Q Plus, MPX220, PEBL U6, Razr V3, RAZR V3m, Razr V3x, RAZR V3xx, RAZR V3xxv, RAZR V6, RAZR2 V9m, ROKR E1, ROKR E2, ROKR E6, SLVR L7, SLVR L7e, SLVR L7i, SLVR L9, T720, V1050, V1075, V171, V177, V180, V186, V188, V190, V195, V197, V220, V235, V300, V360, V360-Vodafone, V365, V3i, V3m, V3r, V3t, V3v, V3x-Vodafone, V400, V500, V505, V525, V525M, V535, V547, V550, V551, V555, V557, V600, V600i, V620, V635, V80, V975, V980, V980M, W220, W375, Z3
NEC: N600
Nokia: 2355, 2610, 2626, 2650, 2760, 2855i, 2865, 2865i, 3100, 3105, 3110c, 3120, 3125, 3152, 3155, 3200, 3220, 3230, 3250, 3300, 3410, 3510i, 3530, 3586i, 3587, 3595, 3600, 3620, 3650, 3660, 5070, 5100, 5140, 5140i, 5200, 5300, 5500d, 6010, 6015, 6020, 6021, 6030, 6060, 6060v, 6061, 6070, 6080, 6085, 6100, 6101, 6102, 6102i, 6103, 6108, 6111, 6125, 6126, 6131, 6133, 6151, 6155, 6165i, 6170, 6200, 6220, 6225, 6230, 6230i, 6233, 6234, 6235, 6235i, 6255, 6255i, 6260, 6265, 6265i, 6270, 6275i, 6280, 6288, 6300, 6310i, 6585, 6600, 6610, 6610i, 6620, 6630, 6650, 6651, 6670, 6680, 6681, 6682, 6708, 6800, 6810, 6820, 6822, 7200, 7210, 7250, 7250i, 7260, 7270, 7360, 7370, 7373, 7390, 7500, 7600, 7610, 7650, 7710, 8800, 8800 Sirocco, 9210, 9290, 9300, 9500, E50, E60, E61, E61i, E62, E65, E70, N-Gage, N-Gage QD, N70, N70-1, N71, N72, N73-1, N80-1, N90, N91, N92, N93, N93i, N95
O2: Ice
Orange: SPV, SPV C100, SPV C500, SPV C550, SPV C600, SPV C700, SPV e100, SPV E200
Panasonic: A210, VS2, VS3, VS6, X200P, X400, X400P
Pantech: PG-1410
Philips: 768
Qtek: 8100, 8500
QTEK: QTEK 7070, QTEK 8010, QTEK 8020, QTEK 8080, QTEK 8100, QTEK 8300, QTEK 8310, QTEK 8600
RoverPC: M1
Sagem: MY 400V, MY 400X, MY 401X, MY 401Z, MY 501C, MY 501X, MY 600v, MY 600x, MY 700X, MY C4-2, MY C5-2, MY C5-2 Vodafone, MY V-55, MY V-56, MY V-65, MY V-75, MY W-7, MY X-4, MY X-5-2T, MY X-6, MY X-7, MY X-8, MY X5-2, MY X5-2M, MY X6-2, MY Z-5, myX5-2v, Sagem myS-7
Samsung: i300, i320, i320N, SCH A870, SGH A701, SGH A707, SGH C100, SGH C100G, SGH C130, SGH C140, SGH C170, SGH C200, SGH C207, SGH C207L, SGH C210, SGH C230, SGH C260, SGH C300, SGH C406, SGH C417, SGH D407, SGH D410, SGH D500, SGH D500C, SGH D500E, SGH D510, SGH D520, SGH D600, SGH D600E, SGH D800, SGH D807, SGH D820, SGH D830, SGH D836, SGH D840, SGH D900, SGH D900i, SGH E200, SGH E250, SGH E300, SGH E310, SGH E310C, SGH E315, SGH E316, SGH E330, SGH E330N, SGH E340, SGH E340E, SGH E350, SGH E350E, SGH E360, SGH E370, SGH E376, SGH E420, SGH E490, SGH E500, SGH E530, SGH E568, SGH E570, SGH E600, SGH E620, SGH E630, SGH E630C, SGH E690, SGH E700, SGH E710, SGH E715, SGH E720, SGH E728, SGH E730, SGH E736, SGH E760, SGH E780, SGH E800, SGH E808, SGH E810, SGH E830, SGH E840, SGH E870, SGH E878, SGH E890, SGH E898, SGH E900, SGH i300, SGH I607, SGH P200, SGH P300, SGH P310, SGH P400, SGH P510, SGH P777, SGH P850, SGH P900, SGH P906, SGH P910, SGH P920, SGH S300, SGH S300M, SGH T209, SGH T219, SGH T309, SGH T319, SGH T329, SGH T509, SGH T509S, SGH T519, SGH T609, SGH T619, SGH T629, SGH T809, SGH U600, SGH U700, SGH X100, SGH X100A, SGH X105, SGH X120, SGH X160, SGH X200, SGH X210, SGH X300, SGH X430, SGH X450, SGH X460, SGH X480, SGH X486, SGH X490, SGH X495, SGH X500, SGH X506, SGH X507, SGH X510, SGH X520, SGH X530, SGH X600, SGH X620, SGH X620C, SGH X630, SGH X636, SGH X640, SGH X640C, SGH X648, SGH X650, SGH X660, SGH X670, SGH X680, SGH X686, SGH X700, SGH X820, SGH Z107, SGH Z140, SGH Z230, SGH Z240, SGH Z300, SGH Z370, SGH Z400, SGH Z400V, SGH Z500, SGH Z510, SGH Z530, SGH Z540, SGH Z560, SGH Z720, SGH ZV10, SGH ZV40, SGH ZV50, SGH-i607, SPH A580, SPH A640, SPH A660, SPH A680, SPH A740, SPH A900, SPH A900P, SPH A920, SPH A940, SPH A960, SPH M500, SPH M510, SPH M610, SPH M620, Z130, Z150
Sanyo: S750
Sendo: X
Sharp: 770SH, GX-L15, GX10, GX10i, GX15, GX17, GX20, GX22, GX25, GX29, GX30, GXT15, TM100, TM150
Siemens: A31, A60, A65, A75, AL21, AX72, AX75, AX76, C55, C60, C62, C65, C65-Vodafone, C66, C72, C75, CF62, CF76, CX65, CX70, CX75, EF81, M50, M55, M56, M65, M75, MC60, ME75, MT50, S55, S57, S65, S75, SK65, SL42, SL45, SL55, SL65, SL75, ST60, SX1
Sony-Ericsson: D750, D750i, F500i, J200i, J210i, J220i, J230i, J300a, J300i, K300, K300a, K300i, K310, K310a, K310i, K320i, K500i, K508, K508c, K508i, K510a, K510i, K550i, K600, K600i, K608i, K610, K610i, K618i, K700, K700c, K700i, K750, K750i, K790a, K790i, K800i, K800iv, K810i, K850i, M600i, P1i, P800, P900, P910, P910a, P910i, P990i, S500i, S700, S700i, S710a, T226, T230, T290a, T290i, T610, T616, T630, T637, T68, V600, V600i, V630i, W200a, W200i, W300, W300i, W550c, W550i, W580i, W600c, W600i, W610i, W660i, W700i, W710i, W800i, W810i, W810iv, W830i, W850i, W850iv, W880i, W900i, W950i, Z1010, Z300i, Z310i, Z310iv, Z500, Z500a, Z520a, Z520i, Z530i, Z550a, Z550i, Z558i, Z600, Z610i, Z710i, Z800
T-Mobile: MDA Dash, MDA Mail, SDA, SDA (US name), SDA II, SDA Music
Tatung: M1
Vodafone: v1210, v1240, VDA II, VDA IV
Sony Ericsson (P800, P802, T610, T616, T618, T628, T630, Z600); Nokia (2650, 3120, 3200, 3510i, 3650, 5100, 6030, 6100, 6610, 6610i, 7250i, 7650, N-Gage, N-Gage QD); Samsung (SGH-E330, SGH-E630, SGH-X460); Siemens (A65, C55, C60, MC60, SX1); LG (B2100, C1100, C2200); Panasonic X200





Download to PC:



JAR file (opera-mini-3.1.7203-basic-int.jar)

3. opera-mini-3.1.7203-advanced-int.zip
Size
:
103.77 Kb
Compatible with:
Acer:
S60
Garmin:
iQue 3000, iQue 3200, iQue 3600
Palm:
LifeDrive, LifeDrive Mobile Manager, Treo 650, Treo 680, Treo 700p, Tungsten E, Tungsten E2, Tungsten E2 - Multilingual, Tungsten T, Tungsten T2, Tungsten T3, Tungsten T5, Tungsten TX, Zire 71, Zire 72
PalmOne:
Treo 650, Treo 680
Sony:
Clie N760C, Clie PEG-NR70, Clie PEG-NR70V, Clie PEG-NX60, Clie PEG-NX73V, Clie PEG-NX80V, Clie PEG-NZ90, Clie PEG-SJ22, Clie PEG-SJ22U, Clie PEG-SJ33, Clie PEG-T415, Clie PEG-T425, Clie PEG-T600C, Clie PEG-T615C, Clie PEG-T625C, Clie PEG-T665C, Clie PEG-TG50, Clie PEG-TH55, Clie PEG-UX40, Clie PEG-UX50, Clie T615, Clie T650C, Clie TJ25, Clie TJ27, Clie TJ35, Clie TJ37
Tapwave:
Zodiac 2