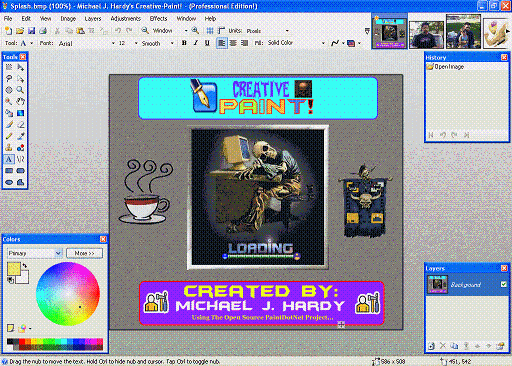 Creative Paint is a 100% Free Image Editing and Photo Manipulation Software designed to be used on computers that run Windows XP SP2 or higher. It supports Layers, Unlimited Undo, Special Effects, Several Image Formats (FileTypes), Plugin Support System and a wide variety of Useful and Powerful Tools!
Creative-Paint is an enhanced version of PaintDotNet with added features such as a new customizable Splash Screen and Sound Effects… - New Version of PaintDotNet… - Creative-Paint Created By Michael J. Hardy
Because of The Technlogy Used To Develop Creative Paint The System Requirements are a little more Advanced then Most Software (e.g. Windows Xp Sp2 or Later is Required)...
Windows Xp Sp2 Or Higher (Windows Xp or Windows Vista is Recommended)
Intel Pentium or equivalent Processor
At least 500 Mhz Processor Running 64 MB of SDRAM
The .NET Framework [ 2.0 ] or Higher (v3.0 is included with latest release)

1024x768 Screen Resolution (Will Work With Less But Not Recommended)
Finally a Good Graphic Skill (: You'll Get Good At Using It! :)