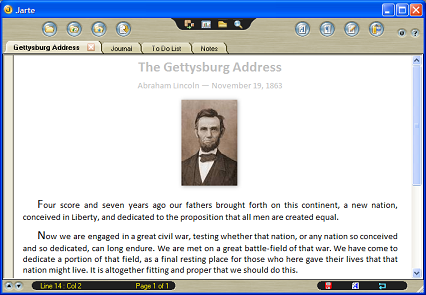 Jarte 3.0 Beta 2


Jarte is a powerful, free word processor and Wordpad replacement with a unique interface.
Features include RTF and DOC support, OLE support, visual header & footer designer, clip history, online reference bar, tabbed document access, spell check, page breaks, print preview, multi-level undo & redo, customizable background, bookmarking, and many more. A detailed Help file is included.
Here are some key features of "Jarte":
· Opens multiple documents using a tabbed interface
· Opens rich text and plain text documents including DOC documents created with Microsoft Word 95, Word 97, or Word 2000
· Saves documents in rich text format, plain text format or Microsoft Word 95 DOC format
· Optional display of button labels
· Docking tool panels
· Optional system tray access
· Drag and drop file support
· Customizable background pattern and color schemes
· Quick access to recently opened documents
· Quick access to your favorite documents and your favorite document folders
· Detailed Help file
Editing Functions:
· Provides the ability to insert page breaks anywhere in your document
· OLE support for inserting pictures, sounds, and other OLE objects
· Quick Clips option provides easy copy, cut and paste capability with the iddle mouse button (aka, mouse scroll wheel) - Standard copy, cut, and paste clipboard functions
· "Paste
Plain" function strips HTML and RTF formatting from clipboard text before pasting
· Multi-level undo and redo
· Copy all, select all, and clear functions
· Font Formatting
· Bold, italic, underline, strikeout, subscript, and superscript styles
· Choice of text colors
· Text highlight tool with choice of colors
· Font typeface selection box which displays each font choice in its own typeface
· Quick access to your personally chosen favorite fonts and to recently used fonts
· Format brush tool quickly applies font styling to text
· Paragraph Formatting
· Left, right, and centered text alignment
· Paragraph indentation
· Bulleted, first line indent, and hanging indent paragraph styles
· Single, one and a half, and double line spacing
· Optional paragraph spacing before and after paragraphs
· Format brush tool quickly applies formatting to paragraphs
Printing:
· Print preview
· User definable page margins
· Reverse page order option and odd or even pages only options (useful for ouble sided printing) in addition to the standard print options
· Visual designer allows complete control of both headers and footers:
· Define any combination of left side, right side, and center headers and footers
· Headers and footers may contain any combination of page numbering, file date, current date (in choice of date formats), file name, and user definable text.
· User control of the font typeface, font size, font style, and font color used for headers and footers
· User control of the positioning of the header and footer lines
· Optional suppression of the header and/or footer on the first page
· Document Navigation
· Displayable Find Bar for text searching and text replacing that does not interfere with document reading and editing
· Single click bookmarking and single click bookmark navigation
· Go directly to a specified page number or line number
Tools:
· Clip List allows you display and reuse the 25 most recent clipboard clips
· Screen capture tool for copying any portion of the screen to the clipboard
· Special Characters Keyboard allows single click insertion of any character including the extended characters not shown on your keyboard
· Spell checker with user definable dictionary
· Link to, or import, your existing custom Word dictionaries
· Reference Bar provides instant word lookup to:
- Merriam-Webster's on-line dictionary
- Merriam-Webster's on-line thesaurus
- Brittanica®'s on-line encyclopedia
- On-line English grammar reference
- On-line quotes reference
· Document word count tool
· Open web link tool
· Search for files on your computer with direct access to the system file search tool
· The Reference Bar also automatically integrates with the WordWeb dictionary and thesaurus if installed
What's New in This Release:
· Page margins, page size, bookmarks and other document attributes are now saved as part of the document
· Jarte can now be run as a portable program directly from a USB flash drive (Options > Install to USB Drive)
· Compact layout option (View > Compact Layout)
· Jarte automatically integrates with both the online and desktop versions of the very cool Visual Thresaurus (View > Show Reference Bar > Thesaurus; or right click on any word > Thesaurus)
· Template support (File > Save As > Save As Template)
· Export to HTML (File > Save As > Export > Export as HTML)
· E-mail support (File > Send)
· Associate Jarte to RTF, DOC, and TXT file types (File > Options > File Associations)
· Insert Hyperlinks (Insert > Insert Hyperlink)
· Table support (Insert > Insert Table)
· Insert Equations (Insert > Equation)
· User defined tab stops created by clicking the ruler (View > Show Ruler)
· Change letter casing (Edit > Change Case)
· Sorting (Edit > Sort)
· Click-less operation allows you to control Jarte with significantly fewer mouse clicks (Options > Click-less Operation)