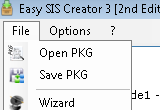 Easy SIS Creator - Application that allows you to create SIS Files for
Symbian
cellulars Easy SIS Creator is a free utility that allows you to easily create SIS files for
Symbian
cellulars. SIS files are the installation files that contain the programs or the games for
Symbian
cellulars. They are like a simple ZIP self-extractor archive that contains the files and you can extract them in the preselected location.
Easy SIS Creator supports PKG files, PKG files is a file that contains the needed commands to create SIS files.
The last available version is 3.00 and Easy SIS Creator allows you to create SIS for
Symbian
of 2
nd
and 3rd Edition.
Requirements:
·
HDD
Free Space: 2.56 MB
· Other: .NET Framework 2.0 (or higher)
What's New
in This Release:
·
Rebuild
with Visual Basic.NET 2005
· Windows Vista Compatible
· Easy PKG Reading
· PKG Modification directly from Application
· 2
Nd
and 3rd Edition Support
· SIS Certification for 3rd Edition File
· Easy Wizard