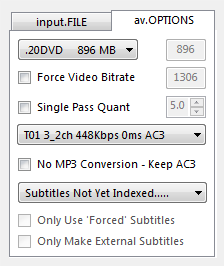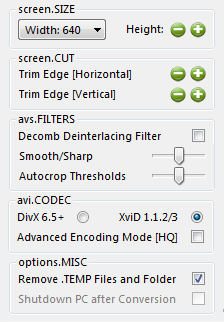 avi.NET 2.5.5.0

avi.NET - MPEG2|MPEG1|DVD|SVCD|VCD to AVI converterAVI movie files are both popular and potentially excellent quality for their size.
With the introduction of home DVD players that play DivX AVI's, their creation and use will only become more popular. avi.NET, along with other AVI conversion programs, require the correct type of VOB file. What we desire is a ready processed VOB file, not a RAW VOB, in other words you need to have used rip.NET or DVD Decrypter in IFO mode and have ripped the correct program chain.
Do not use DVD Decrypter's 'Stream Processing' option !

avi.NET MUST have the XviD Video Codec v1.1 or above and/or the DivX Video Codec v6.0.3 or above installed prior to using avi.NET. avi.NET requires .NET FRAMEWORK v2.0 to be installed for it to work!!!

avi.NET allows the user to load in a ripped VOB file (remember to have it ripped correctly), select options and convert it to AVI. All AVI's made using avi.NET are SAP friendly, whether DivX or XviD codec used (both DivX 6 and DivX HE supported). Obviously they'll play just fine on your PC too. I'll now go into more detail about the usage and various options in avi.NET.

avi.NET will accept both MPEG1 or MPEG2 files for input, which includes DVD, SVCD and VCD. Upon loading a file, avi.NET will invoke DGIndex (included) to 'index' the input file and give us the information needed for us to proceed. When our file has finished indexing you'll see the movie start to play/preview. Just remember, you'll hear the audio being played too, it's just there to make sure you have the correct language selected or if the audio needs changing so don't worry too much if its out-of-sync.

avi.NET now includes:
mobile.NET which is a stripped down version of avi.NET for PPC's and Smartphones (320x240).
index.NET which will batch load/save jobs to automate the process on indexing.

Requirements:
.NET Framework
AVISynth v2.5.6a
VobSub v2.23.
What's New in This Release:
· Fixed an XVID codec setting that may have affected SAP compatibility.
· Changed smooth/sharp settings from checkbox to slider.
· Changed autocrop setting from checkbox to slider.
· Altered text displayed during playback/preview.
· Amended many error handling routines.
· Upgraded to latest DGIndex (v1.5.0b1)
· Removed time jump input boxes and added slidebar instead.
· Slight alterations to font and slight textual display changes.